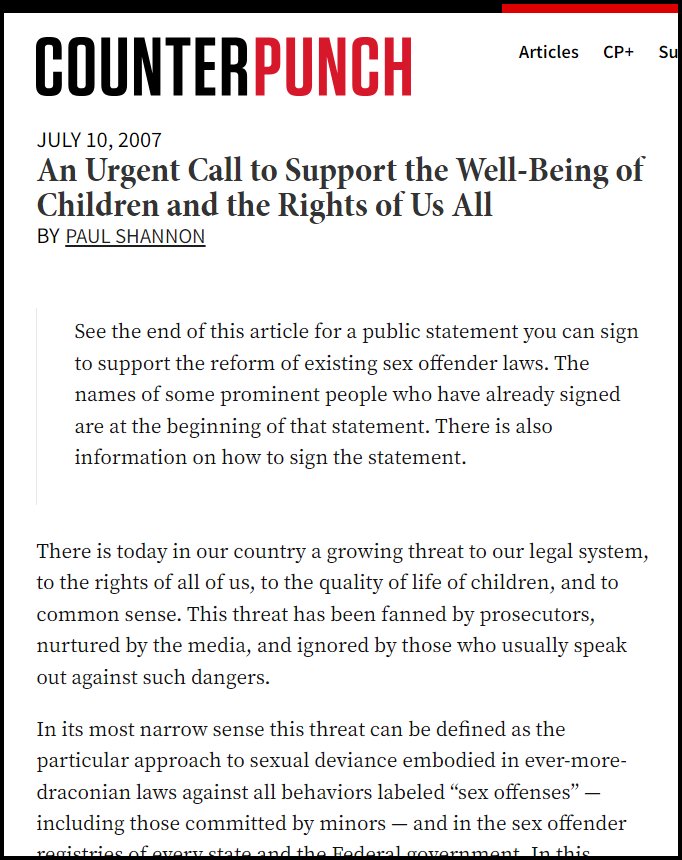 The National Association for Rational Sexual Offense Laws grew out of an effort in the late 1990s by a Boston group of civil libertarians, educators, and other professionals who were concerned about a growing panic justified in the name of protecting children from sexual violation. This panic generated ill-conceived laws eroding civil liberties, common sense, and everyday social interactions. After more than a year of regular discussions, the group initiated a formal call to protect our children and our liberties. More than 100 Boston-area professionals signed it. The Call was intended to generate further discussion about the dangers posed to children and substantial attacks on the civil liberties of American citizens.
In 2006, some of the original signatories became concerned that the problem had worsened and began to circulate a revised document. In July 2007, Paul Shannon, a long-time peace and social justice educator in the Boston area, published his article entitled It's Time to Reform Sex Offender Laws: An Urgent Call to Support the Well-being of Children and the Rights of Us All in the online newsletter Counterpunch. A website was created for people to sign on to this statement, and Reform Sex Offender Laws (RSOL) was officially born.
One of our founders, "Alex Marbury," had been among the founders of several LGBTQ activist groups and an organization concerned with the age of consent laws. Alex resigned from that organization several years before the launch of RSOL. While some see this past connection as a liability, his knowledge of the members of that organization proved invaluable during our early years, as he helped and watched to make sure that none of its leaders publicly signed our statement. "Alex" used a pseudonym to further disassociate his advocacy with RSOL from his earlier one. RSOL focused on the post-conviction treatment of persons convicted of sexual offenses. It has never taken any stand regarding the age of consent.
As RSOL continued to grow in its influence, it incorporated and adopted a set of bylaws, a vision statement, a mission, goals, and key assertions. It elected a board of directors and established working committees to implement and accomplish its agenda. RSOL's national conferences began in 2010 and continue to expand their influence with each additional year. There are affiliate and associate organizations in an increasing number of states. Lobbying and litigation by these state groups have proven highly effective while lobbying at the national and congressional level remains an important goal.
In late 2016, to eliminate the use of the phrase "Sex Offender," RSOL became NARSOL (National Association for Rational Sexual Offense Laws). With the same mission and goals as RSOL, NARSOL has continued fighting to change oppressive sexual offense laws under its new banner.
NARSOL has always been clear about its fundamental mission and goals. It welcomes all who share these goals to participate in the organization's work. NARSOL neither endorses nor condones the totality of beliefs held by anyone who associates with its work. It specifically embraces only the ideas that form the basis of the organization's work and which appear in our vision, mission, goals, and assertions.
There is much reason for hope. We see and hear many legislators, journalists, and media sources, both at the local and national levels, questioning and disputing the accepted myths that are the basis of today's failed public registry. We have witnessed some favorable judicial decisions in several states. We firmly believe that our hopes for substantial change may be near a tipping point as more and more individuals, especially juveniles, are forced to register for behavior that was socially acceptable even 20 years ago.
We at NARSOL reflect on our history with immense pride. We embrace the promises the future holds, one where a single transgression no longer results in a lifetime of loss in human dignity, respect, and fundamental rights; where those who are falsely accused may find true justice; and where those who have taken responsibility for the harm they have inflicted on others might discover the hope for meaningful redemption again.