What can the sex offender registry do?
By Sandy . . . The headline sounds rather bad: "Peoria council points to sex offender at vice mayor's house as grounds for resignation."
The first part of the accompanying piece lays out some seemingly valid reasons for concern:
Derek Lawson, registered in Arizona as a sexual offender due to a conviction in 1984 in California, is required by law to register any address where he stays three or more days a month.
He stayed at the home of Peoria, Arizona's City Council's deputy chief, Denette Dunn, "intermittently throughout the past year."
He did not register her address.
Mayor Jason Beck and the city council have asked Ms. Dunn to resign her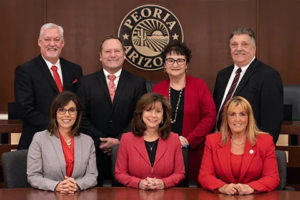 position as deputy chief as her relationship with  Lawson has "breached public trust" and "depicts behavior that 'does not uphold the standards of conduct we expect from our public servants.' "
Then other information is – almost reluctantly – given.
Mr. Lawson's estimate of his time spent overnight at the home in the past year is between 20 and 30 days, which averages to between 1.6 and 2.5 days a month, less than the 3 days per month that triggers an obligation to register the address.
In addition to Ms. Dunn living in the home, the mother of Mr. Lawson lives there.
Local law enforcement has no open case against Lawson; he has a legally registered address at an extended stay motel.
Derek Lawson, his mother, and Denette Dunn have been close family friends for years, and Lawson did maintenance and security chores at the home where his mother and family friend live.
Ms. Dunn has for years been terrorized and harassed by a neighbor with clear mental health issues, extremely well documented; some of Lawson's overnight stays at the home were to provide safety and protection.
Mayor Beck and Ms. Dunn have divisive political conflict, lending credence to Dunn's belief that this entire issue is being used in an attempt to force her resignation.
So when all is said and done, what remains?
A man who committed a crime 39 years ago, has long ago completed punishment for that crime, and is not wanted by law enforcement for any reason, spends some time in the home that his mother and a long-time friend share. The mayor and city council are able to use that fact to try and force the resignation of one of their members, Ms. Dunn.
How is this possible?
It is because his crime requires that he register himself on the state's sexual offender registry, a non-criminal but civil regulatory registry – a civil regulatory registry that can have very serious criminal implications, that seriously inhibits rehabilitation and reassimilation, that is used to inhibit movement of law-abiding citizens as wall as persecute and harass them, and that can be used to harass and destroy family members and friends who have the audacity to maintain a relationship with a person on the sex offender registry.
And all of that with being a civil policy.
God knows what it could do were it a criminal one.